Product
Power OFF Phone Detector / Airplane mode Phone Detector / Offline Phone Detector / Cellphone - Mobile phone scanner / Mobile Phone Security Detector / Cellphone Finder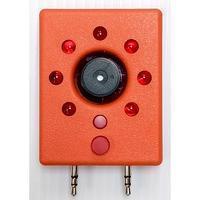 Product ID: DOF / 220728
~ Accessory ~

This detector can assist guard to check if the enery person is carry a mobile phone in places where mobile phones are prohibited.
This detector can detect mobile phones that have been turned off, removed battery, removed SIM card, or set in airplane mode.

This detector will perform sound and light warnings when detect mobile phone.
This detector is designed to used on the following four models, it does not have its own power, so it can not be used independently.
If you have GPS tracker DETECTOR (SH-055UGTM & SH-055UGTAM), you also can choose DOF as Optional add-on Accessory.
This detector will not issue fales alarm on metal products such as keys, nail clippers, watches, belt heads, glasses and jewelry, etc.
P.S.
If mobile phone is separated by heavy clothes or placed inside handbag with larger interval over 10~15mm, DOF is not able to detect.
Order Information:
Minimum Order: Negotiable
Branded Product, Buyer's Label Offered