Product
All-in-one_Multifunctional Hidden Camera Detector/Wired_Wiress Camera Detector/Micro SD Hidden Camera Detection/Find Magnetic Mount GPS Tracker / Anti-Spy Camera Device / Counter Surveillance / 5G CellPhone Detector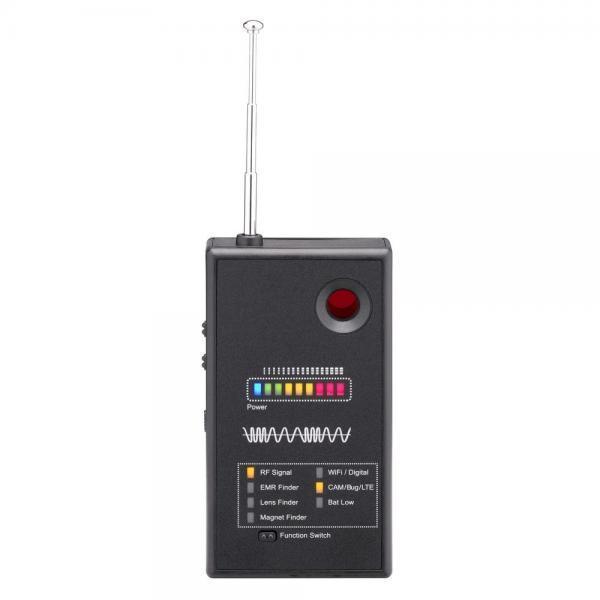 Product ID: SH-055UEMR / 221028
~Made In Taiwan~
#All-in-one_Multifunctional Hidden Camera Detector #Wired_Wiress Camera Detector #Micro SD Hidden Camera Detection #Find Magnetic Mount GPS Tracker #Anti-Spy Camera Device #Counter Surveillance #5G (3300 ~ 3700MHz) CellPhone Detector
√ High Price-Performance Ratio
√ Not easily interfered with environment
√ User won't be confused by noise
√ Well fit personal privacy protection
*Micro SD Hidden Camera Detection
SH-055UEMR update with Micro SD hidden camera detector which can identify all the hidden camera with micro SD recording, so as button type, clock, USB charger, pen type, cloth hanger and USB driver etc. Facing the 「detect area」 in rear side of this device to suspicious object, this device will vibrate to alert the user if detect the hidden camera is switch On.
Scouting unwanted surveillance threats. SH-055UEMR even can reveal non-emitting cameras.

If apply selfie stick with this device, it will be more convenient to detect pinhole cameras hidden in higher place, so as wall clock, air condition, fake bulb, smoke alarm, roof light, etc.
Detect / Find Objects
1

Camera

Lens Finder - Wired Camera Detection

2

Detect GSM / 3G / 4G / 5G(3300~3700MHz) / WiFi Hidden Camera

3

Find Magnetic Mount GPS Tracker

4

Airplane mode Cellphone Detection

5

Standby / Idle Phone Registration Detection

6

Voice Recorder

7

50 MHz ~ 6.0 GHz Wireless RF Devices
SH-055UEMR also can detect 5G (3300 ~ 3700MHz) cellphones upto 7 meters.
P.S. If you would like to detect RF bug devices, please refer to the RF bug detector https://www.suresafe.com.tw/series7.html
Specifications:
Detecting range

50 MHz ~ 6.0 GHz

Detect object

1. Micro SD Hidden Camera

2. Voice Recorder

3. GSM / 3G / 4G / 5G / WiFi Hidden Camera

4. Camera Lens Finder

5. Magnetic mount GPS tracker

6. Airplane mode Cellphone

7. 50 MHz ~ 6.0 GHz Wireless RF Devices

Dimension

L 10.4 x W 5.5 x T 2.2 cm

Weight

About 75g (not include battery)

Power

AAA / UM-4 dry battery x 3

Warning mode

Vibration

Sensitivity Tuner

1. Adjust detecting distance to find signal source

2. Eliminate the environment interference

Detecting Distance

100mW 2.4GHz Wireless camera

up to 7 feet

10mW 5.8GHz Wireless camera

up to 3 feet

GSM Cell phone

up to 6 feet

Smartphone

up to 6 feet

3G 2100 cell network

up to 0.5 feet

5G (3300 ~ 3700MHz) Cell phone

up to 23 feet
* The detecting distance of wireless (RF radio frequency) device will be varied depending on its output signal strength.
Order Information:
Minimum Order: Negotiable
Buyer's Label Offered