Product
Portable 2G_3G_4G_5G CellPhone Detector / Mobile Phone Detector with LCD screen / Anti-Cellphone Solution / Mobile interneting detector / Cell Phone Security Solution / GSM-3G-4G-5G Audio monitoring detector / 3G-4G-5G Video monitoring detector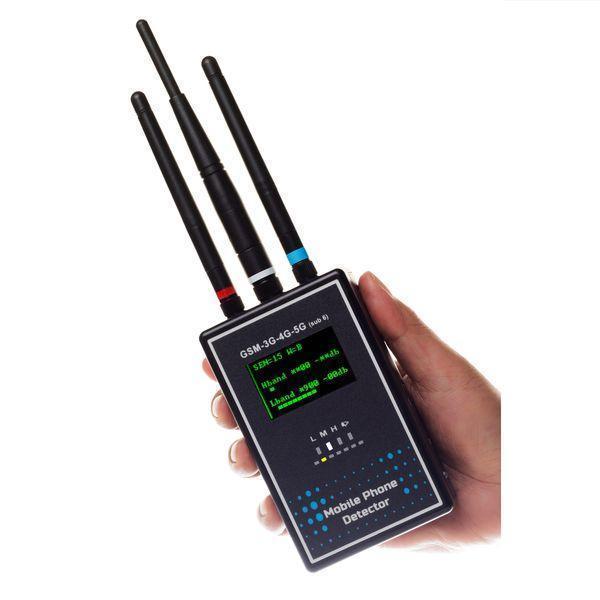 Product ID: SH-055UA (SH-055UAA_SH-055UAE_SH-055UAP) / 231101
~Made In Taiwan~
#Portable 2G_3G_4G_5G CellPhone Detector #Mobile Phone Detector with LCD screen #Anti-Cellphone Solution #Mobile interneting detector #Cell Phone Security Solution # GSM-3G-4G-5G Audio monitoring detector #3G-4G-5G Video monitoring detector

√ Detect 5G sub 6 3300 ~ 3800 MHz
√ Detect GSM / 3G / 4G / 5G Audio monitoring
√ Detect 3G / 4G / 5G Video monitoring
√ Clear display frequency & signal strength
√ No false alerts the user won't panic
√ Not easily be interfered with the environment
There are many wireless products nowadays, and the air is full of radio waves of various frequencies, especially WiFi everywhere. Most of the so-called full-featured detector responds to all kinds of radio waves but fail to indicate the signal type that general consumers will panic about too many alerts.
˜

Not Easily Be Interfered With Other Signals Than Mobile Phones
NEW SH-055UA series is especially designed to detect the GSM-3G-4G-5G signals of mobile phones. It won't be interfered with the signals of other frequency bands than mobile phones.
# CLEAR LCD DISPLAY OF SETTINGS & SIGNAL INFO
The LCD screen displays the settings of Sensitivity level and Warning mode. When detecting mobile phone signals, the LCD screen will display the frequency band, the signal strength (dB value), and bars of signal strength. Both ordinary users and professionals can smoothly check whether someone is using a mobile phone or remote monitoring devices using mobile phone technology.
# DETECT GSM / 3G / 4G / 5G MOBILE PHONE SIGNALS
This device has good detection capability for GSM / 3G / 4G / 5G (3300~3800MHz) mobile phone signals, including GSM / 3G / 4G / 5G Audio monitoring and 3G / 4G / 5G Video monitoring.
# SENSITIVITY BENCHMARK & LEVEL
1. This device has three benchmarks for user to choose the appropriate benchmark according to the environment, Default is Medium benchmark and sensitivity level 10.
2. Press + or - buttons in left side to adjust the sensitivity level. Increase sensitivity up to 20 will enter to High benchmark. Reboot this device, it will return to the default sensitivity.
# WARING MODE

If set warning mode to Silent, plug in the earphone to detect by listening.
# DETECTED FREQUENCY BAND: Hband, Lband
1. 5G Sub 6 frequency band: 3300 ~ 3700 MHz are displayed at 3500.
For European 5G Sub 6 frequency band: 3300 ~ 3800 MHz are displayed at 3600.
2. If there are multiple frequency bands of mobile phone signals existing at the same time, only one high frequency band and low frequency band with the most strong strength will be displayed on the screen.
# PORTABLE TYPE & FIXED TYPE

Portable type for patrol detection and Fix-type for fixed area all-day detection.

1. Portable type is powered by rechargeable batteries and power bank, user can carry it to detect anywhere.

2. Fixed type is powered by 5V DC with Relay output (NO and NC) for all-day detection in Government agencies, military, prisons, conference halls, etc.

# SIGNAL STRENGTH & STRENGTH BAR
1. -**db = No mobile phone signal detected
2. Signal strength display bar: Total 8 bars representing 7 kinds of signal strength

# DETECTING FREQUENCY BAND

1. For American use: SH-055UAA
Detecting Frequency Band: 700a, 800, 900, 1700, 1900, 2600, 3500

2. For European use: SH-055UAE
Detecting Frequency Band: 700, 800, 900, 1800, 2100, 2600, 3600

3. For Japanese use: SH-055UAP
Detecting Frequency Band: 700, 800, 900, 1500, 1700, 2100, 2600, 3500
Specifications:
Dimension
L 11.6 x W 7 x T 3.3 cm (not including antenna length)
Weight
About 215g
Power

1. AAA/UM-4 NiMH battery x 4

2. 5V 1A USB charger

3. Support power bank

Detecting Frequency
For American: 700a, 800, 900, 1700, 1900, 2600, 3500 MHz
For European: 800, 900, 1800, 2100, 2600, 3600 MHz
For Japanese: 700, 800, 900, 1500, 1700, 2100, 2600, 3500 MHz

Warning mode

Portable type

1. Beep
3. Beep & Vibration
2. Vibration
4. Silent

Fix type

1.0A Relay with NO-NC output
Remark:
Detecting distance will be varied subject to the signal strength & cellphone model.

For example, to detect a big room or a high ceiling room, set the benchmark at High can get a detection distance up to 20 meters radius.
To detect a small area, such as a prison cell, set the benchmark at Low can get a detection distance up to 5 ~ 6 meters radius. Then SH-055UA is not easy to be interfered with the radio waves from the next room.
Order Information:
Minimum Order: Negotiable
Buyer's Label Offered