Product
ALL-ROUND RF BUG DETECTOR with Audio Receiver_ Noise Generator / RF Sginal Detector / Anti-Spy Bug Device / 2G_3G_4G_5G Cellphone Detector / RF Bug Sweeper /Wireless Hidden Mircophone Detector / Anti-Recording Device/ Anti-eavesdropping / Mobile Phone Detector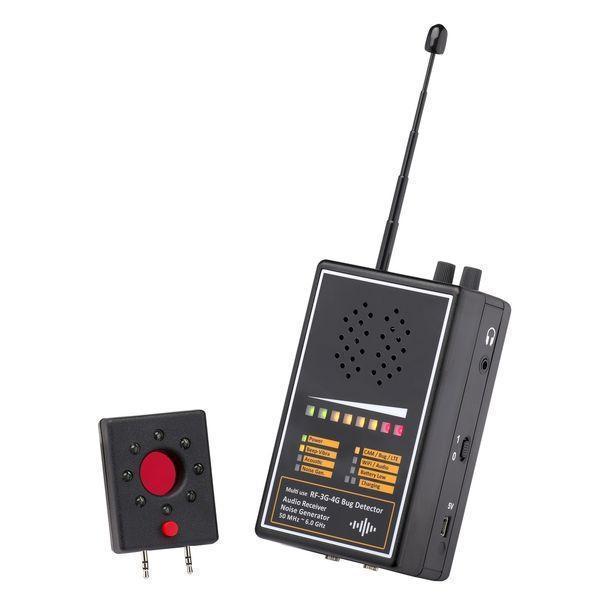 Product ID: SH-055UAJLW / 231107
~Made In Taiwan~
#ALL-ROUND RF BUG DETECTOR with Audio Receiver_ Noise Generator #RF Sginal Detector #Anti-Spy Bug Device #2G_3G_4G_5G(3300~3800MHz) Cellphone Detector #RF Bug Sweeper #Wireless Hidden Mircophone Detector˜ #Anti-Recording Device #Anti-eavesdropping #Mobile Phone Detector

ALL-ROUND WIRELESS RF SIGNAL DETECTOR
˜This new invention detects wireless RF signals during 50 MHz ~ 6.0 GHz, including RF bug (wireless hidden microphone), wireless camera, WiFi and 2G / 3G / 4G / 5G (3300~3800MHz) mobile phones.
1. AUDIO RECEIVER

This device has an additional audio receiver can hear the conversation from FM wireless RF bug(hidden microphone) and display through built-in speaker or earphone.
Detecting range of Analog Hidden microphone (bug):
1. 89 - 90 MHz
2. 139 - 140 MHz
3. 399 - 402 MHz
4. 433 - 435 MHz
Its sensitivity is about –60 dBm at 400 MHz, can detect 2 mW FM wireless RF bug about 70 feet (20 meters).


2. NOISE GENERATOR (85dB AUDIO JAMMER)

This device equips an extra Noise Generator provides suppression to interfere with any forms of voice recording and to protect your important conversation, so as wireless and wired microphones, tape recorders, digital recorder and mobile phones.

3. DISCOVER GSM / 3G / 4G / 5G (3300~3800MHz) & BUG & SPY CAMERA

4. STILL FIND OUT WIRELESS BUG IN SILENT PLACE
All other audio receivers neither help you to find the bug nor display any voice if none is talking. This device can find bug in silent place. It has a sensitivity tuner for user to lower the sensitivity a little by little, and then approach to find the signal source gradually.
※ Usage of Noise Generator

The audible white noise will be garbled with the conversation and cause the conversation recognizable in a short distance (at 15 cm if the maximum of Noise generator volum at 85dB) only.

Specifications:
Detecting range

50 MHz ~ 6.0 GHz

Detecting range of Analog Hidden microphone (bug)


1. 89 - 90 MHz
2. 139 - 140 MHz
3. 399 - 402 MHz
4. 433 - 435 MHz

Dimension

L 11.6 x W 7 x T 4.3 cm (not include antenna)

Weight

About 175g (not include battery)

Power

1. 5V DC switching power adaptor

2. AAA / UM-4 NiMH battery or dry battery x 4

Warning mode

1. LED indication 2. Beep alarm sound

3. Audio receiver 4. Vibration

5. Earphone silent detection

Sensitivity tuner

1. Adjust detecting distance to find signal source

2. Eliminate the environment interference

Noise generator Volume

85 dB (at 15 cm, half feet) Maximum

Detecting distance

Wireless FM bug (2mW)

up to 7 meters (beep)

up to 20 meters (acoustic)

10mW 2.4GHz Wireless camera

up to 5.4 meters

10mW 5.8GHz Wireless camera

up to 1.2 meters

GSM Cell phone

up to 4 meters

Smartphone

up to 4 meters

3G 2100 cell network

up to 7.5 meters

5G (3300~3800MHz) Cellphone

up to 3 meters
Features:
Audio Receiver of FM Wireless RF Bug

Anti recording – 85 dB Noise Generator

Identify WiFi Hidden Camera Activity

˜Lens Finder for Wireless & Wired Camera

˜3G 2100 - Expert Detection Ability
Order Information:
Minimum Order: Negotiable
Buyer's Label Offered