Product
Versatile RF Signal Detector / WiFi IP Camera Detector / Cellphone Detector / Anti-Camera Solution / Counter Surveillance / GSM GPS tracker DETECTOR/ RF Bug Sweeper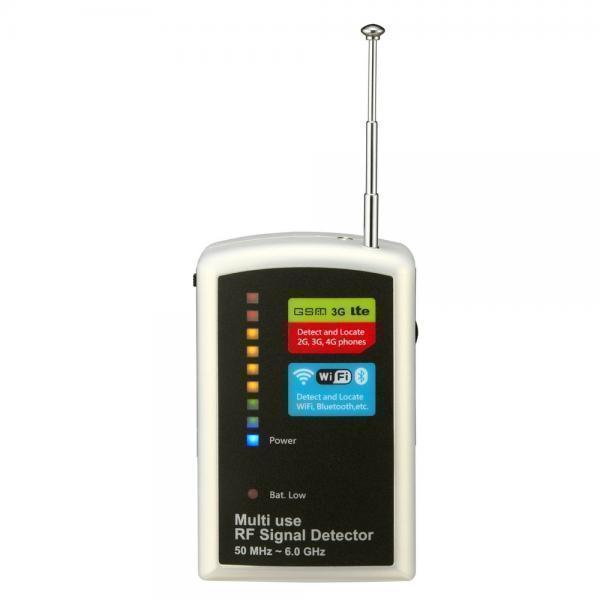 Product ID: SH-055NV / 230727
~Made In Taiwan~
This device (#Versatile RF Signal Detector #WiFi IP Camera Detector #Cellphone Detector #Anti-Camera Solution #Counter Surveillance #GSM GPS tracker DETECTOR #RF Bug Sweeper) is a VERSATILE RF signal detector which can detect most of GSM phone, 3G/4G smartphone, WiFi, GSM GPS tracker, Wireless and other wireless device during 50 MHz ~ 6.0 GHz.
1. Wide Detect Frequency Range: 50 MHz ~ 6.0 GHz, including GSM phone, 4G smartphone, WiFi, wireless bug (hidden microphone), wireless analog cameras, digital cameras, IP camera and other wireless device during 50 MHz ~ 6.0 GHz.

2. SEMI DIRECTIONAL ANTENNA: This feature is very helpful in locating the signal source. When reducing the sensitivity to approaching the signal source, the scan angle is also changing from wide to narrow.

3. Foolproof indication : 8 levels signal strength indication

4. Digital signal amplifier

5. Earphone for silent detection

6. Sensitivity tuner for distance adjustment and environment noise elimination.

7. Standby / Idle phone registration detection
8. SH-055NV is also good in detecting SMS (Short Message Service) signal from GPS tracking devices. But, SH-055NV does not have the special filter as SH-055SDV, so it will beep or vibrate with all kinds of analog & digital signals. User is not easy to identify the SMS signal of GPS tracker.

Specifications:
Size: L 87 x W 55 x T 24 mm

Weight: about 70 g

Detecting range: 50 MHz ~ 6.0 GHz

Power: 3V DC (AAA/UM-r battery x 2)

Warning mode :

Beep alarm sound

LED indication

Vibration

Earphone silent detection
Detecting distance:

5.8GHz Wireless camera: up to 2 feet

2.4GHz Wireless camera: up to 8 feet

2.4GHz WiFi: up to 12 feet

GSM about 12 feet

CDMA about 4 feet

4G smartphone about 12 fe

et
Features:
Multiple warning modes: LED, Beep or Vibration
8 levels siganl strength indication
Distinguish the signal type
Sensitivity tuner for Distance adjustment.
With earphone to detect without other's notice.
With analog and digital signal detection switch.
Can detect and locate GSM / 4G bug (hidden microphone), GSM / 4G spy camera, GSM GPS tracker
Standby / Idle phone registration detection
Order Information:
Minimum Order: Negotiable
Buyer's Label Offered