Product
2G_3G_4G_5G GPS Tracker Detector / Versatile RF Signal Detector /GSM_3G_4G_5G Cellphone Detector / Anti - GPS tracker / Anti - Tracking / GPS Detector / GPS Jammer Detector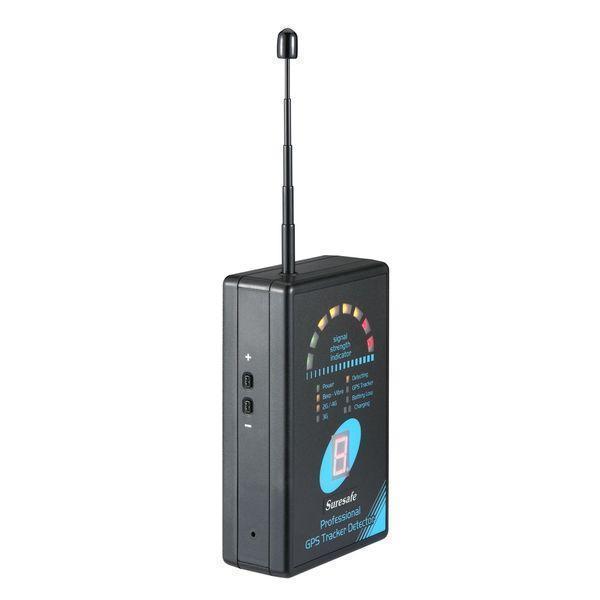 Product ID: SH-055UGT/ 231025
~Made In Taiwan~
#2G_3G_4G_5G GPS Tracker Detector #Versatile RF Signal Detector #2G_3G_4G_5G Cellphone Detector #Anti - GPS tracker #Anti-Tracking #GPS Detector #GPS Jammer Detector

Handy and more efficient, the best tool to disclose covert GPS tracker
This device is special made of detecting GPS tracker, no matter what kind of transmission technologies and cell networks (mobile phone system): GPRS (mobile data transmission) or SM (Short message), 2G or 3G or 4G.
Some GPS tracker venders claim: "With the latest 66-channel chipset, coupled with a large area patch antenna, you can increase the communication speed by 10 times, so that the detector can not capture," or "Applied with segmented compression fast transmission technology, effectively prevent the detector to capture ", no matter how, this device can expose them, nothing to hide.
We take the occasion to list its benefits, as follows.
1. Sensitivity of SH-055UGT should be high enough to be able to catch the fleeting signal from modem of GPS tracker.

Since GPS tracker will not activate without GPS signal and without moving, so it is not able to detect GPS tracker inside the building, underground parking lot or under metal shade shelter.

However, there are noises of strong radio waves from base stations, TV station and radio station, etc. outdoors which will affect the detection of SH-055UGT. SH-055UGT can greatly reduce the impact of outdoor noises (strong radio waves), in order to detect the signal from modem of GPS tracker effectively.

2. High sensitivity of SH-055UGT makes it easy to detect outdoor noises. How to avoid affects of outdoor noises and effective detect GPS tracker in the outdoors is unique technology possessed by SH-055UGT.

3. SH-055UGT is not only used to detect GPS tracker outdoors, it also has excellent detection capabilities for various wireless radio waves from 50 MHz to 6.0 GHz indoors.

4. Although SH-055UGT can reduce the impact of strong outdoor radio waves, we still recommend to do GPS tracker detection in quiet place with less people and buildings to get less interferences with people using mobile phones and to detect GPS tracker easier.



Specifications:
Specification * Specification may change without notice.<
Detecting object

2G / 3G / 4G GPS tracker, bug (hidden microphone), spy camera

Dimension

L 11.6 x W 7 x T 3.3 cm (not include antenna)

Weight

About 160g (not include battery)

Power

1. AAA / UM-4 NiMH battery x 4

2. AAA / UM-4 dry battery x 4

3. 5V DC switching power adaptor

4. 5V DC power bank

Warning mode

1. LED indication

2. Beep sound

3. Vibration

4. High signal

5. Earphone silent detection

Detecting Distance

About 3 ~ 5 meters * The detecting distance will be varied depending on the environment and the brand, the cell network of GPS tracker.
*The detecting distance is subject to the signal strength of sources.
Features:
POWER-ON SELF-TEST

AUTO ENVIRONMENT CHECK

RELIABLE DEFAULT BENCHMARK

SMART INDICATION OF ALL STATUS

TWO KINDS OF WARNING

AUTO INDICATION OF DETECTING STATUS

BATTERY & CHARGING STATUS

SENSITIVITY (DISTANCE) ADJUSTMENT

ADDITIONAL FEATURE: DISCOVER 2G / 3G / 4G / 5G(3300~3700MZh) smart phones, BUG, & SPY CAMERA

SUPPORT POWER BANK FOR LONG TIME USE
Order Information:
Minimum Order: Negotiable
Buyer's Label Offered