Product
Multi Functional Camera Detector / Wireless Video Scanner / Anti-Spy Camera Solution / WiFi IP Camera Detector / Expose all cameras' lens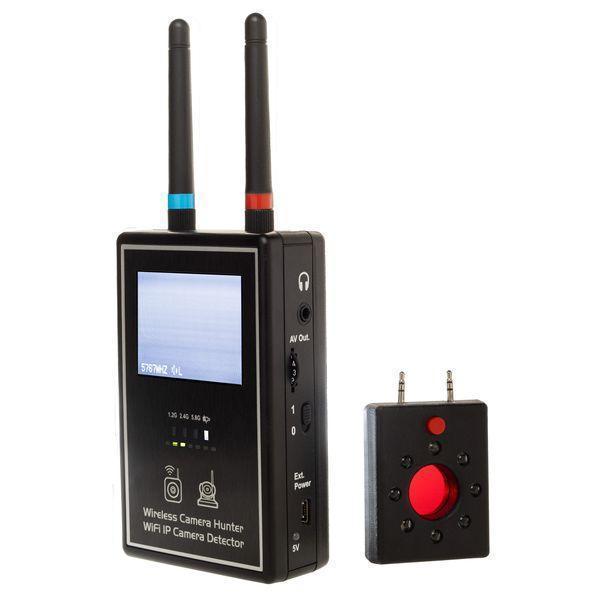 Product ID: VS-127 / 231002
~Made In Taiwan~
#Multi Functional Camera Detector #Wireless Video Scanner #Anti-Spy Camera Solution # WiFi IP Camera Detector #Expose all cameras' lens
VS-127 Multi Functional Camera Detector can:

1. Mini Wireless NTSC/PAL/SECAM Camera Hunter
900 ~ 1300 MHz, 2340 ~ 2550 MHz, 5645 ~ 5945 MHz
2. WiFi IP Camera Detector
2410 ~ 2480 MHz, 5180 ~ 5320 MHz, 5745 ~ 5825 MHz
3. Plug-in Lens Finder – Expose All Camera's Lens
This device has a plug-in Lens finder which has 8 ultra-bright lights to scan the camera lens and help to find out the wired camera by checking the reflection of illuminated light on the camera lens.
Look through the Viewfinder on Lens finder, it is more easily to identify the camera lens. This lens finder also can uncover a hidden wireless camera even the camera is turned off.
#DEMODULATE Audio SIGANL
Many wireless Analog video cameras have microphone to send received audio. This device has audio demodulation of 6.5 MHz and 6.0 MHz covering most wireless NTSC/PAL/SECAM video cameras.
VS-127 is easy to use, does not require complicated installation or any professional knowledge.
#SENSITIVITY ADJUSTMENT
VS-127 has a sensitivity tuner with number 9 ~ 1, special for "WiFi IP camera scan mode" only. Default at 9 is the highest sensitivity.
Lower the sensitivity can reduce the detecting distance, according to this way, can approach to the location of WiFi IP camera.
P.S. VS-127 just detect the activities of WiFi signal, but does not read the WiFi data. So, VS-127 will not display image of WiFi IP camera.

== Please turn off Wi-Fi router before operate VS-127.==
Specifications:
Dimension

L 11.6 x W 7 x T 3.3 cm (including antenna: L 19 cm)

Weight

about 215g (not include battery)

Power

1. Switching power adaptor

2. AAA / UM-4 dry battery or NiMH battery

3. Support external power bank (5V 1.5A and more)

Detecting Frequency

1. Wireless video camer: 900 ~ 1300 MHz, 2340 ~ 2550 MHz, 5645 ~ 5945 MHz
2. WiFi IP camera: 2410 ~ 2480 MHz, 5180 ~ 5320 MHz, 5745 ~ 5825 MHz

Video protocol

Auto-switching for NTSC, PAL and SECAM

Operation mode

Auto – Lock – Manual fine tune

Scan indication

Image and frequency of scanned video signal

Warning mode

1. Beep 2. Vibration

3. Earphone for silent detection

Scanning band

1. 1.2 GHz - 2.4 GHz - 5.8 GHz three video camera bands
2. 2.4G WiFi CH 1 – CH 13
3. 5G WiFi CH 36 - CH 64, CH 149 – CH 165

Detecting Distance

depending on output power of source transmitter


1. Wireless video camera: up to 200 feet
2. WiFi IP camera: up to 12 feet
Features:
* 2.5" LCD Monitor, Color and B/W cameras are compatible

* Indicate frequency of scanned videos image for NTSC/PAL cameras


* Three LED indicates the scanning status of 1.2, 2.4, 5.8GHz frequency bands individually

* Video protocol auto-switching for NTSC, PAL and SECAM

* Lock function can latch or release the image for NTSC, PAL and SECAM

* "Fine Tuning" switches for mending screen image

* 3.5mm Video/Audio output jack for recording the scanned video and audio

* AAA / UM-4 dry battery or NiMH battery both available

* Earphone hear the voice if there is audio signal with the wireless NTSC, PAL and SECAM camera

* Support external power bank to extend the working time
Order Information:
Minimum Order: Negotiable
Buyer's Label Offered