Product
Versatile RF Signal Detector / 2G_3G_4G_5G Cellphone Detector / Wireless Camera Detector / RF Bug Detector / WiFi IP Camera Detector / Counter Surveillance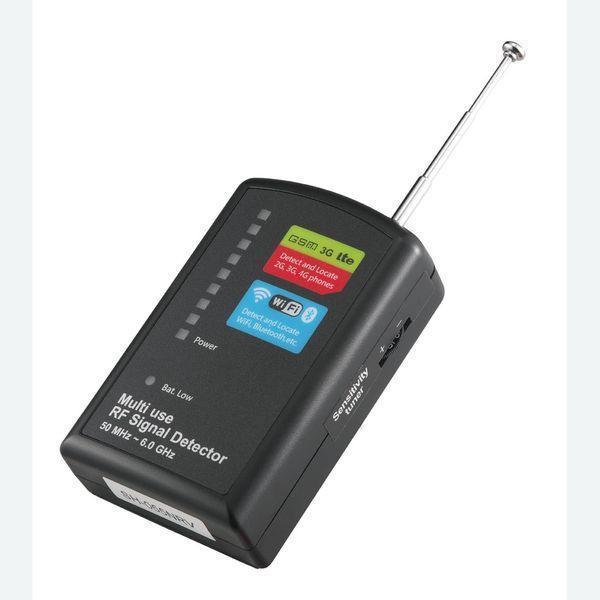 Product ID: SH-055NRV / 231128
~Made In Taiwan~
#Versatile RF Signal Detector #2G_3G_4G_5G Cellphone Detector #Wireless Camera Detector #RF Bug Detector #WiFi IP Camera Detector #Counter Surveillance
This device is a VERSATILE RF signal detector which can detect most of GSM phone, 3G/4G/5G(3300~3700MHz) smartphone, WiFi, Wireless cameras and other wireless device during 50 MHz ~ 6.0 GHz.
˜FOOLPROOF INDICATION
multiple warning modes
This device will alert you with multiple warning modes: LED, beep or vibration when to detect wireless signals.
ANALOG / DIGITAL SELECTION SWITCH
This device has installed with unique Analog / Digital selection switch. When to detect digital wireless device, set the switch at D, the advanced digital amplifier will heighten the indication of digital signals of Bluetooth, WiFi, GSM phone, Smartphone and other Digital Spread Spectrum (DSS) wireless products, etc.
Specially designed for easy and simple use, does not require complicated installation or any professional knowledge.

Specifications:
Size: L 87 x W 55 x T 24 mm

Weight: about 125 g

Detecting range: 50 MHz ~ 6.0 GHz

Power: 3V DC (AAA/UM-r battery x 2)

Warning mode :

Beep alarm sound

LED indication

Vibration

Earphone silent detection
Detecting distance:

5.8GHz Wireless camera: up to 1.2 meter

2.4GHz Wireless camera: up to 9 meters

2.4GHz WiFi: up to 12 meters




GSM about 4 meters




4G, 5G(3300~3700MHz) smartphone about 4 meters



Features:
Multiple warning modes: LED, Beep or Vibration
8 levels siganl strength indication
Distinguish the signal type
Sensitivity tuner for Distance adjustment.
With earphone to detect without other's notice.
With analog and digital signal detection switch.
Can detect and locate 2G / 4G bug (hidden microphone) and 2G / 4G spy camera
Standby / Idle phone registration detection
Order Information:
Minimum Order: Negotiable
Buyer's Label Offered