Product
Versatile RF Signal Detector with Expert 2.4G WiFi IP Camera detection / GSM_Smartphone Detector / Wired_Wireless Camera Detector / WiFi IP Camera Detector / Anti-Spy Camera Device / WiFi IP Camera Threat Solution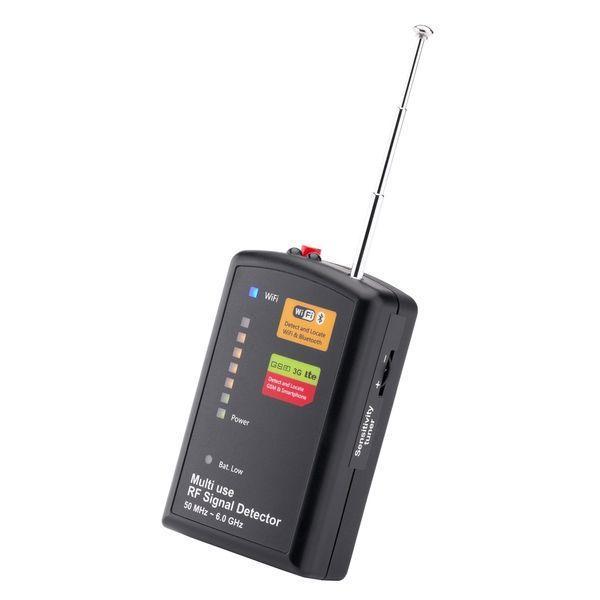 Product ID: SH-055NRF / 230112
~Made In Taiwan~
#Versatile RF Signal Detector with Expert 2.4G WiFi IP Camera detection # GSM_Smartphone Detector # Wired_Wireless Camera Detector # WiFi IP Camera Detector # Anti-Spy Camera Device # WiFi IP Camera Threat Solution

˜* VERSATILE & WIDE FREQUENCY RANGE
This device is a VERSATILE RF signal detector which can detect most of GSM phone, Smartphone, WiFi, IP camera, wireless bug (hidden microphone), analog and digital wireless cameras and other wireless device during 50 MHz ~ 6.0 GHz.
˜* Efficient Identify & LOCATE 2.4G WiFi IP Camera
IP cameras are increasing in popularity. This device has a professional 2.4G WiFi detection module for detecting and locating 2.4G WiFi / IP cameras up to 3.6 meters.
Features:
˜ VERSATILE & WIDE FREQUENCY RANGE
Efficient Identify & LOCATE WiFi IP Camera
FOOLPROOF INDICATION
SENSITIVITY TUNER
Standby / Idle Phone Registration Detection
WIRED CAMERA DETECTION
See more complete detail
Detecting range

50 MHz - 6.0 GHz

Dimension

L 8.7 x W 5.5 x T 2.4 cm

Weight

About 125g (without battery)

Power

3V DC (AAA/UM-4 battery x 2)

Warning mode

1. Beep alarm sound

2. LED indication

3. Vibration

4. Earphone silent detection

Sensitivity Tuner

1. Adjust detecting distance to find signal source

2. Eliminate the environment interference

Detecting Distance

5.8GHz Wireless camera

up to 3 meters

2.4GHz camera (10mW)

Normal mode

up to 4.5 meters

WiFi mode

up to 9 meters

2.4GHz WiFi

Normal mode

up to 5.5 meters

WiFi mode

up to 12 meters

2.4GHz IP camera (1mW)

WiFi mode

up to 3.6 meters

GSM 800 / 900

about 4 meters

GSM 1800 / 1900

about 4 meters

CDMA 800

up to 2 meters

Smartphone 4G, 5G(3300~3700MHz)

up to 4 meters
Order Information:
Minimum Order: Negotiable
Buyer's Label Offered