Product
Wired_Wireless RF Signal Detector / 2G_3G_4G_5G Mobile Phone Detector / Spy Camera Detector / RF Bug Detector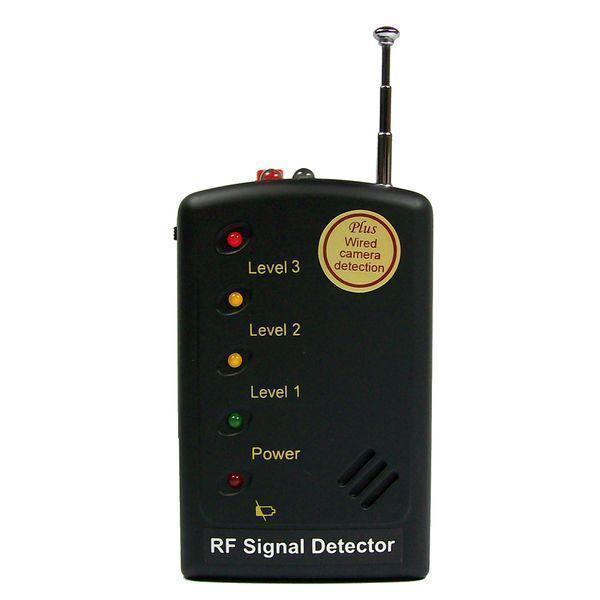 Product ID: SH-055GRV / 231116
~Made In Taiwan~

#Wired_Wireless RF Signal Detector # 2G_3G_4G_5G Mobile Phone Detector #Spy Camera Detector #RF Bug Detector
#VERSATILE & WIDE FREQUENCY RANGE
This device is a VERSATILE RF signal detector which can detect most of 2G phone, smartphone, WiFi, wireless bug (hidden microphone), wireless analog and digital cameras and other wireless device during 50 MHz ~ 6.0 GHz.
#FOOLPROOF INDICATION
#MULTIPLE WARNING MODES
This device will alert you with multiple warning modes: LED, beep or vibration when to detect wireless signals.
#INDICATE SIGNAL STRONG OR WEAK
This device has 3 levels signal strength indication. The 3 LED will light from Level 1 -> Level 2 -> Level 3 indicating the strength of detected signal. And stronger signal more rapid beep or vibration.
#DISTINGUISH THE SIGNAL TYPE
This device can help user to distinguish the signal type, analog or digital.
#ANALOG / DIGITAL SELECTION SWITCH
This device has installed with unique Analog / Digital selection switch. When to detect digital wireless device, set the switch t D, the advanced digital amplifier will heighten the indication of digital signals of Bluetooth, WiFi, GSM phone, Smartphone and other Digital Spread Spectrum (DSS) wireless products, etc.
#SILENT DETECTION
Earphone output: User can detect by earphone hearing without others' awareness.
#SENSITIVITY TUNER
1. Eliminate the environment interference to set the detection threshold.
2. Adjust to shorten detecting distance for locating and finding signal source.
#DISCOVER 2G / 3G / 4G BUG & SPY CAMERA
This device can detect and locate 2G / 3G / 4G bug (hidden microphone) and 3G / 4G spy camera which are applied 2G / 3G / 4G technology to be remote controlled by cellphone from anywhere.
#WIRED CAMERA DETECTION
Specially designed for easy and simple use, does not require complicated installation or any professional knowledge.

Specifications:
Size:L 87 x W 55 x T 24 mm
Detecting range: 50 MHz ~ 6.0 GHz
Power:3V DC (AAA / UM-4 battery x 2)
Warning mode:

Audible alarm and 3 LEDs

Vibration and 3 LEDs

Silent, 3 LEDs and earphone output
Detecting distance :

Regular 10mW 5.8 GHz wireless camera: 8 feet

Regular 100mW 2.4 GHz wireless camera: 20 feet

Wired camera is about 15 feet
Detecting distance 2:

2G Cell phone: 12 feet


4G, 5G (3300~3800MHz) Smart phone: 12 feetDetecting distance is depanding on the strength of base station and type of celluar phone
Features:
Set the Wired switch on, it will activate the ultra-bright LEDs for scanning suspected areas.
Catching all the Peeping camera and Concealed microphone.
Hunting all the Cell phone, Wireless phone.
3 LEDs indication: Level 1 (Weak), Level 2 (Medium), Level 3 (Strong).
Dual strength indication: Audible / LED alarm.
Sensitivity tuner for Distance adjustment.
Switchable Sound / Vibration detection.
With earphone to detect without other's notice.
With analog and digital signal detection switch.
Order Information:
Minimum Order: Negotiable
Buyer's Label Offered