Product
[Fix type] 2G_3G_4G_5G CellPhone Detector / Mobile Phone Detector with LCD screen / Anti-Cellphone Solution / Mobile interneting detector / Cell Phone Security Solution / 2G-3G-4G-5G Audio monitoring detector / 3G-4G-5G Video monitoring detector / Prison Security Solution / LCD Mobile Phone Detector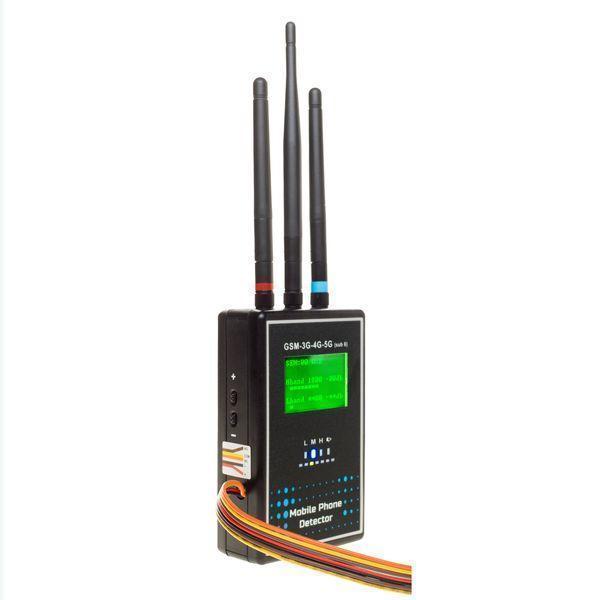 Product ID: SH-055UAxF (SH-055UAEF, SH-055UAVF..) / 231108
~Made In Taiwan~
#(Fix type)2G_3G_4G_5G CellPhone Detector #Mobile Phone Detector with LCD screen #Anti-Cellphone Solution #Mobile interneting detector #Cell Phone Security Solution #2G-3G-4G-5G Audio monitoring detector #3G-4G-5G Video monitoring detector #Prison Security Solution #LCD Mobile Phone Detector

√ Individual frequency band sensitivity adjustment
√ Detect 5G sub 6 3300 ~ 3800 MHz
√ Detect GSM / 3G / 4G / 5G Audio monitoring
√ Detect 3G / 4G / 5G Video monitoring
√ Clearly LCD display of detected signal

√ No confuse with other signals than mobile phone

√ Anti-cut & power failure alarm output
√ Detection warning with NO-COM-NC alarm output

√ Backup power for 3 hours

NEW

This device is a professional-grade, fix-type mobile phone detector designed for locations like prisons, goverment agencies, and polices where mobile phone use is prohibited. It offers ease of use without complicated settings, making it suitable for individuals without professional electronic training or knowledge.
#DUAL ALARM OUTPUT

This device has two sets of alarm outputs, one is ANTI-Cut Waring through the NC two-line output when the power is failure.
Another set is a Detection Warning through the NO-COM-NC three-line output when this device detects the mobile phone signal.
# BACKUP POWER (Rechargeable Batteries)

This device has backup power from AAA / UM-4 rechargeable battery x 4 which can support this device operating for three hours after power failure. Note: This device is available with rechargeable batteries ONLY.
# Not Easily Interfere With Other Signals Than Mobile Phones
This device is specially designed to detect the GSM / 3G / 4G / 5G mobile phone signals. It has good detection capability for GSM / 3G / 4G / 5G (3300~3800MHz) mobile phone signals and does not interfere with the radio waves of other frequency bands than mobile phones.
#˜ INDIVIDUAL FREQUENCY BAND SENSITIVITY ADJUSTMENT
The spacing between base stations varies at each location. When the detection site is in close proximity to a base station, powerful signals from the base station may potentially interfere with this device, triggering alerts on conventional detectors. SH-055UAxF incorporates the feature of individual frequency band sensitivity adjustment, enabling users to fine-tune the sensitivity of each frequency band to suit specific detection environments. This adjustment effectively mitigates interference from neighboring base stations, ensuring accurate and reliable detection.
Press the + - button simultaneously, SH-055UAxF enters sensitivity adjustment mode, the green scan LED stays on the first channel, the LCD screen will appear the asterisk * on the L band 0700, the asterisk * means that the frequency band 700MHz is adjusting now, and the upper-left of the screen will display SEN = 15, representing the factory default sensitivity level. If the user has previously set a different sensitivity level, it will appear at the previous setting.
# CLEAR LCD DISPLAY OF SETTINGS & SIGNAL INFO
The LCD screen displays the settings of Sensitivity level and Warning mode. When detecting mobile phone signals, the LCD screen will display the frequency band, the signal strength (dB value), and bars of signal strength. Both ordinary users and professionals can smoothly check whether someone is using a mobile phone or remote monitoring devices using mobile phone technology.
# SENSITIVITY BENCHMARK & LEVEL
1. This device has three benchmarks for user to choose the appropriate benchmark according to the environment, default is Medium benchmark sensitivity level 15.
2. After entering sensitivity adjustment mode, press the + or - button on the left side to change the sensitivity level. Sensitivity levels 00 - 09 are the Low benchmark, 10 - 19 are the Medium benchmark, and 20 - 29 are the High benchmark.

# WARING MODE

Default is B = Beep + Relay output W= B

| | |
| --- | --- |
| B | Beep + Relay output |
| S | Relay output |
# DETECTED FREQUENCY BAND: Hband, Lband
1. 5G Sub 6 frequency band: 3300 ~ 3700 MHz are displayed at 3500. In the case of models designed for use in European countries, the operating frequency bands, 3400 ~ 3800 MHz, are displayed as 3600.

2. If there are multiple frequency bands of mobile phone signals existing at the same time, only one frequency band with the most strong strength will display on the screen.
# SIGNAL STRENGTH & STRENGTH BAR
1. -**db = No mobile phone signal detected
2. Signal strength display bar: Total 8 bars representing 7 kinds of signal strength

# DETECTING FREQUENCY BAND

For example:
For European use: SH-055UAEF
Detecting Frequency Band: 700, 800, 900, 1800, 2100, 2600, 3600(5G: 3400~3800)

For Vietnam use: SH-055UAVF
Detecting Frequency Band: 900, 1800, 2100, 2600
SH-055UAxF fix type also can be custom manufactured according to the frequency bands of the customer's country or region.
Specifications:
Dimension
L 11.6 x W 7 x T 3.3 cm (not including antenna length)
Weight
About 215g
Power

1. +5V DC external power input

2. AAA/UM-4 NiMH battery x 4 (backup power)

3. Support power bank

Power Consumption

0.2A (200mA) per hour
Detecting Frequency

For European:

700, 800, 900, 1800, 2100, 2600, 3600 MHz

Sensitivity Level

00 ~ 29 total 30 levels

Signal Strength Indication

8 signal strength bars represent 7 signal strength levels

Battery life

About 3 hours (in standby) after fully charged

Relay output

1. Anti-cut & power failure warning: NC (Normal Close) 2-ine output

2. Detection warning: NO-COM-NC (Normal Open-COM-Normal Close) 3-line output

Warning mode
1. Beep + Relay output (B)

2. Relay output (S)

*Occasional, unavoidable light spots on the LCD screen are normal and do not impact the display of detection results.
Remark:
Detecting distance will be varied subject to the signal strength & cellphone model.

For example, when detecting a big room or a high ceiling room, setting the benchmark at High (Level 20~29) can get a longer detection distance of up to 20 meters radius.

To detect a small area, such as a prison cell or a meeting room, set the benchmark at Low (Level 0~9) that could get a detection distance up to 5 ~ 6 meters radius. Then it is not easy to cause misjudgment due to the detection of mobile phone signals from the next room.
Order Information:
Minimum Order: Negotiable
Buyer's Label Offered