Product
Professional-Intelligent use RF Signal Detector/Spy Camera Detector/2G_3G_4G_5G Cellphone Detector/Wired_Wireless Camera Detector / 5G Mobile Detector / RF Wireless Signal Detector / RF Bug Detector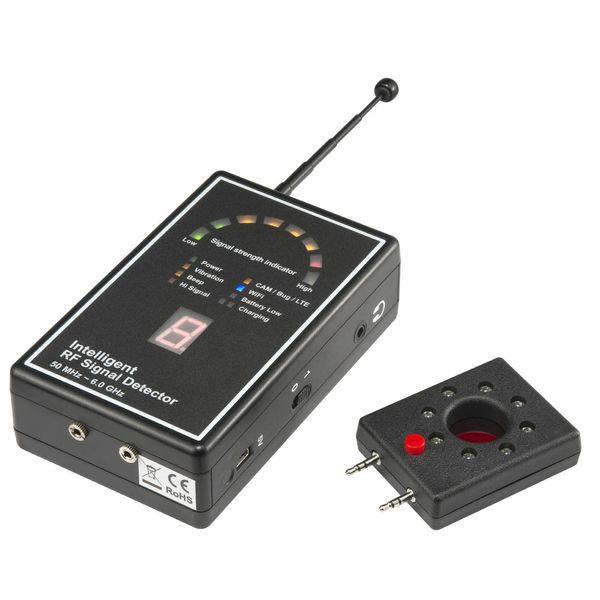 Product ID: SH-055UN8LW / 231004
#Professional-Intelligent use RF Signal Detector #Spy Camera Detector #2G_3G_4G_5G Cellphone Detector #Wired_Wireless Camera Detector #RF Wireless Signal Detector #RF Bug Detector

Unique 2 stages sensitivity adjustment
finds the signal source even in a place full of noise.
Usually, high sensitivity device will detect strong signal in longer distance away, but could not approach to find the signal source. Or just be interfered with the strong environment noise and could not detect.

And most detectors in market just with low sensitivity can detect 3G 2100 in FEW INCHES only or even no response.

SH-055UN8LW applies unique technology of 2 stages digital sensitivity adjustment. In first stage, it can detect 3G 2100 signal (weak signal) up to 7 meters.

In second stage, it can detect and approach a 2 watt booster (very strong signal) in 2 feet only.

So this device can catch weak and strong signal no matter in quiet or noisy place.
EASY TO USE
SH-055UN8LW begins immediately scanning when you turn it on without annoying setting anymore.

This device is a VERSATILE RF signal detector which can detect all the wireless (RF Radio Frequency) devices during 50 MHz ~ 6.0GHz, including
- GSM phone, 3G / 4G /5G (3300 ~ 3700MHz) smartphone
- standby registration signal,
- WiFi

- wireless bug (hidden microphone)
- wireless analog & digital cameras, IP camera
- GPS tracker (2G / 3G / 4G Multi networks modem)
- new bug and new spy camera remote controlled
by cellphone ...etc.

Specifications:
Specification * Specification may change without notice.
Detecting range

50 MHz ~ 6.0 GHz

Dimension

L 11.6 x W 7 x T 3.3 cm (not include antenna)

Weight

About 160g (not include battery)

Power

1. 5V DC switching power adaptor

2. AAA / UM-4 NiMH battery or dry battery x 4

Warning mode

1. LED indication 2. Beep alarm sound

3. Hi Signal 4. Vibration

5. Earphone silent detection

Detecting Distance

Wireless bug (2mW)

up to 20 feet

2.4GHz WiFi

up to 30 feet

100mW 2.4GHz Wireless camera

up to 20 feet

10mW 5.8GHz Wireless camera

up to 3 feet

GSM cell phone

up to 14 feet

Smart phone

up to 14 feet

3G 2100 cell network

up to 25 feet

5G phone (3300~3700MHz)


up to 13 feet
* The detecting distance will be varied depending on the signal strength.
Features:
UNIQUE 2 STAGES SENSITIVITY ADJUSTMENT FINDS THE SIGNAL SOURCE EVEN IN A PLACE FULL OF NOISE.


RELIABLE DEFAULT BENCHMARK

POWER-ON SELF-TEST

8-LED SIGNAL STRENGTH INDICATION

SMART INDICATION OF ALL STATUS

TWO KINDS OF WARNING MODE

STRONG SIGNAL WARNING(Hi Signal)

AUTO INDICATION OF SIGNAL TYPE

BATTERY & CHARGING STATUS

EXPERT 3G 2100 DETECTION

SENSITIVITY LEVEL DOWN-MINUS BUTTON

DISCOVER GSM / 3G / 4G BUG & SPY CAMERA

Standby / Idle Phone Registration Detection

SEMI DIRECTIONAL ANTENNAS

SUPPORT POWER BANK FOR LONG TIME USE

LENS FINDER - WIRED CAMERA DETECTION

VERSATILE & WIDE FREQUENCY RANGE
Order Information:
Minimum Order: Negotiable
Buyer's Label Offered