Product
Versatile RF Signal Detector / WiFi IP 2.4G camera detector / 2G-3G-4G-5G Cellphone Detector / Wired_Wiress Spy Camra detector / TSCM / Anti-Spy Camera Solution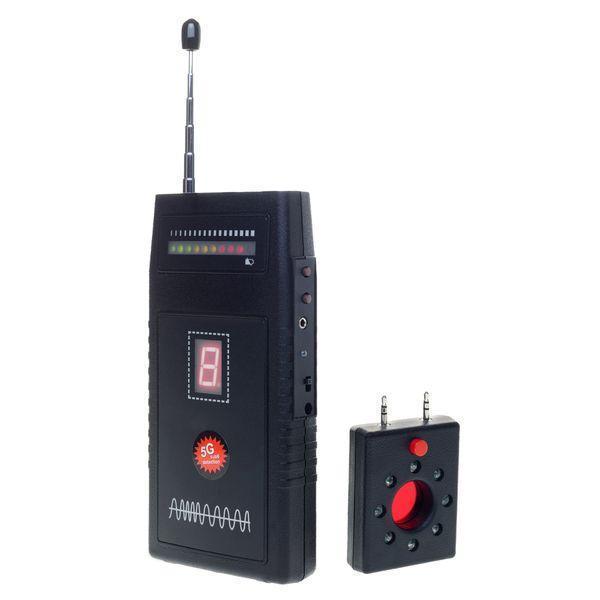 Product ID: SH-055U8LNW+ (SH-055U8LNC+) / 230928
Made In Taiwan
== Enhanced model ==
#Versatile RF Signal Detector #WiFi IP 2.4G camera detector #2G-3G-4G-5G Cellphone Detector #Wired_Wiress Spy Camra detector #TSCM #Anti-Spy Camera Solution
* MAJOR UPGRADE
SH-055U8LNW+ applies with new IC to enhance the display of digital signal. It is not only increased the detection distance of WiFi IP camera, also greatly improves the detection distance of other digital signals, such as 30% longer for 2.4G WiFi and 130% longer for 4G 1800.
Added charging LED display to show the charging status.
˜*3G 2100 DETECTION
SH-055U8LNW+ has an

economy 3G 2100

detecting module, can detect 3G 2100 up to 1.2 meters.
And we take the occasion to list the benefits, as follows.
#VERSATILE & WIDE FREQUENCY RANGE
This device is a VERSATILE RF signal detector which can detect most of the wireless device during 50 MHz ~ 6.0 GHz, including GSM phone, Smartphone, WiFi IP 2.4G camera, Wireless bug and Wireless camera (both analog and digital wireless cameras), etc.
#FOOLPROOF INDICATION
#MULTIPLE WARNING MODES
This device will alert you with multiple warning modes, 10-LED, beep or vibration, when to detect wireless signals.
#INDICATE SIGNAL STRONG OR WEAK
The number of LED lit shows the signal strong or weak, more LED stronger signal closer signal source.
#DISTINGUISH THE SIGNAL TYPE
This device can distinguish the signal type, analog or digital.
#LENS FINDER - WIRED CAMERA DETECTION
This device has an extra Lens finder. The 8 ultra-bright lights can scan the camera lens and help to find out the wired camera by checking the reflection of illuminated light on the camera lens.
#STANDBY / IDLE PHONE REGISTRATION DETECTION
This device can detect the standby / idle phone when it does registration with the
 cell site. The interval time and number of times of registration is different among


 different networks and cell phones.






Remark:
If you would like to use this device in China, then please choose SH-055U8LNC+ .


Specifications:
Detecting range

50 MHz - 6.0 GHz

Dimension

L 14 x W 7 x T 2.5 cm

Weight

About 200g

Power

1. 12V DC 1A switching power adaptor

2. NiMH battery AAA/UM-4, 4 pcs


Warning mode

1. Beep alarm sound

2. LED indication

3. Vibration

4. Earphone silent detection

Sensitivity Tuner

1. Adjust detecting distance to find signal source

2. Eliminate the environment interference

Detecting Distance

1. 100mW 2.4GHz Wireless camera: up to 6 meters

2. GSM up to 5 meters

3. 3G 2100 up to 1.2 meters


4. 4G smartphone up to 5 meters

5. Camera lens: up to 5 meters

6. 1mW 2.4G WiFi IP hidden camera: up to 2.2 meters

7. 5G Smartphone (3300 - 3700 MHz): up to 4 meters
* The detecting distance will be varied depending on the type and model of signal sources.
Features:
Easy setting for suitable benchmark.

Gain longer detecting distance in low noise environment.

Confusion free with factory default benchmark.

Battery low warning.
Order Information:
Minimum Order: Negotiable
Buyer's Label Offered