Product
Multi use RF Bug Detector / Anti-Bug solution / Cellphone Detector / RF Bug Sweeper / RF Signal Detector / Anti-Eavesdropping Detector / Anti-Spy Camera Detector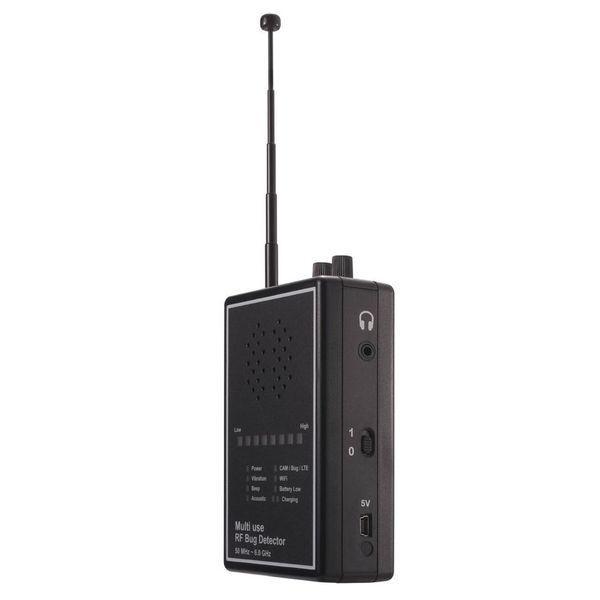 Product ID: SH-055UN7 / 231102
~Made In Taiwan~
#Multi use RF Bug Detector #Anti-Bug solution #Cellphone Detector #RF Bug Sweeper #RF Signal Detector #Anti-Eavesdropping Detector #Anti-Spy Camera Detector

Multi-use RF Bug Detector
* ˜Audio Signal Verification
˜* Identify WiFi hidden cameras
#POWER-ON SELF-TEST
1. Every time this device is powered on, all its LEDs will illuminate.
2. Subsequently, the 8-LED signal strength indicators will extinguish one by one.
3. The remaining LEDs, except for the Power and Beep indicators, will also turn off.
4. This serves a self-test for all functions.
#UNIQUE ACOUSTIC DISPLAY
This device ensures that users won't confuse radio station signals with bug signals. Users will not be easily interrupted or distracted from their scanning task by radio station programs.
#Efficient Identify WiFi Hidden IP Cameras
New hidden IP cameras use WiFi technology with smartphone apps. The camera remains idle and start sending a signal when the owner activates the app to watch.
This device can reliably identify WiFi hidden IP camera activities to warn the user that they are being observed.
#WARNING MODES

There are 3 waring mode for your selection. Default setting is beep.
1. Vibration
2. Beep (Default)
3. Acoustic: Identification for audio signal

#WIFI IDENTIFICATION

WiFi exist in many places, user will always panic when detector is alerting. This device can identify and point out WiFi signal to reduce user's panic.

Specifications:
Specification * specification may change without prior notice.
Detecting range

50 MHz ~ 6.0 GHz

Dimension

L 11.6 x W 7 x T 3.3 cm (not include antenna)

Weight

About 170g (not include battery)

Power

1. 5V DC switching power adaptor

2. AAA / UM-4

NiMH battery or dry battery

x 4
Warning mode

1. LED indication 2. Beep alarm sound

3. Acoustic display

4. Vibration

5. Earphone silent detection

Sensitivity Tuner

1. Adjust detecting distance to find signal source

2. Eliminate the environment interference

Detecting Distance

Wireless bug (2mW)

up to 25 feet (beep)

up to 15 feet (acoustic)

100mW 2.4GHz Wireless camera

up to 15 feet

10mW 5.8GHz Wireless camera

up to 4 feet

GSM Cell phone

up to 13 feet

Smartphone(4G, 5G:3300~3800MHz)


up to 13 feet

3G 2100 cell network

up to 0.3 feet
* The detecting distance of wireless (RF radio frequency) device will be varied depending on its output signal strength.


Features:
Can detect all the wireless bugs during 50 MHz ~ 6.0 GHz. other audio receivers cover up to 900 MHz only.
Can detect the wireless bug, GSM/3G Bug, Wireless Analog camera, Wireless Digital camera / IP camer, 3G Spy camera, WiFi, 2G/3G/4G/5G phones, GPS tracker (2G/3G/4G Multi networks modem).
Clear LED indications of setting signal type & battery status
Auto indications of detected signal type
Support power bank for long time use
Standby / Idle 4G smartphone detection
Order Information:
Minimum Order: Negotiable
Buyer's Label Offered