Product
RF Signal Detector / Wireless Camera Detector / Cell phone detector / RF Bug Sweeper / Anti-Spy Camera Detector / Scoutig Wireless Hidden Camera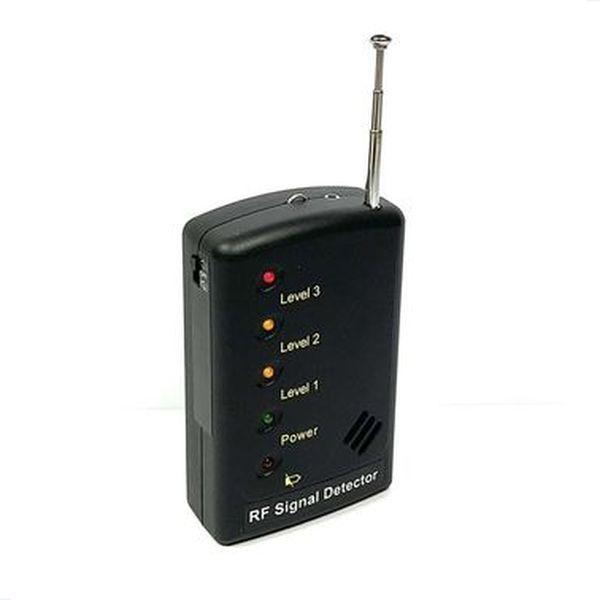 Product ID: SH-055SRV / 231019
Made In Taiwan
#RF Signal Detector #Wireless Camera Detector #Cell phone detector #RF Bug Sweeper #Anti-Spy Camera Detector #Scoutig Wireless Hidden Camera
The superior sensitivity SH-055SRV Applied with fuzzy scanning technology to detect wireless peeping cameras, hidden microphone (bug), cellular phones, and other radio frequency devices.

The SH-055SRV Wireless Camera Detector surely avoid being peeping or tapping to protect privacy or protect information being disclosed secretly.
Functions:
1. 3 Levels indication: 3 LEDs will light from Level 1 to Level 2 to Level 3 indicating the strength of detected signal.
2. Audible alarm: The alarm will change from Slow to Rapid indicating the strength of detected signal.
3. Vibration warning mode: SH-055SRV has Vibration warning mode for detection without other's awareness.
4. Earphone output: User can detect by earphone hearing without others'awareness.
5. Superior sensitivity: SH-055SRV Wireless Camera detector have the superior sensitivity for longer detecting distance. SH-055SRV can detect 100mW 2.4GHz wireless camera over 20 feet.
6. Sensitivity tuner: An adjustable sensitivity tuner allows you to scan variable distance and can eliminate the environment interference (background noise).
Specially designed for easy and simple use, which does not require complicated installation or any professional knowledge.

Specifications:
Size:

L 87 x W 55 x T 24 mm

Weight:

about 105g (w/o batteries)

Detecting range:

50 MHz ~ 6.0 GHz
Power:

3V DC (AAA / UM-4 battery x 2)
Warning mode

:

Audible alarm and 3 LEDs display

Vibration and 3 LEDs display

Silent, 3 LEDs display and earphone output

Detecting distance :

2.4 GHz wireless camera is about 20 feet.

5.8 GHz wireless camera is about 8 feet.

Smart phone is about 10 feet.
Features:
Catching all the Hidden camera and Concealed microphone.
Hunting all the Cellphone, Wireless phone.
3 LEDs indication: Level 1 (Weak), Level 2 (Medium), Level 3 (Strong).
Warning mode: Sound, LED and Vibration.
Sensitivity tuner for Distance adjustment.
Switchable Sound / Vibration detection.
With earphone to detect without other's notice.
Order Information:
Minimum Order: Negotiable
Buyer's Label Offered