Product
Mini Wireless Camera Hunter 900 MHz - 3.0 GHz, 5.0 – 6.0 GHz / Full band video scanner / Anti-Spy Camera Solution / Counter Surveillance / Wireless Analog Camera Hunter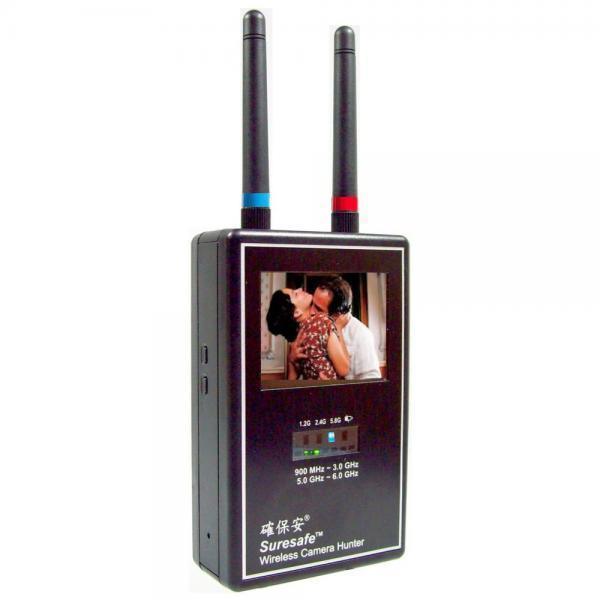 Product ID: VS-123 / 230822
~Made In Taiwan~
# VS-123 can not detect Digital cameras, such as WiFi IP cameras.
#Mini Wireless Camera Hunter 900 MHz - 3.0 GHz, 5.0 – 6.0 GHz #Full band video scanner #Anti-Spy Camera Solution #Counter Surveillance #Wireless Analog Camera Hunter

This mini video scanner receives and display video signal of 1.2 GHz - 2.4 GHz - 5.8 GHz three frequency bands wireless NTSC/PAL/SECAM video camera. Its effective distance is up to 200 feet (depending on output power of source transmitter). VS-123 Mini Wireless NTSC/PAL/SECAM Camera Hunter is easy to use as 1-2-3. It does not require complicated installation or any professional knowledge.


* Scan 1.2G - 2.4G - 5.8G three frequency bands cyclic within 18 seconds for one cycle

* 2.5" LCD Monitor, Color and B/W cameras are compatible

* Indicate frequency of scanned imagage

* Three LED indicates the scanning status of 3 frequency bands individually

* Video protocol auto-switching for NTSC, PAL and SECAM

* Lock function can latch or release the image.

* "Fine Tuning" switches for mending screen image

* 3.5mm Video/Audio output jack for recording the scanned video and audio

* AAA / UM-4 dry battery or NiMH battery both available

* Earphone hear the voice if there is audio signal with the wireless camera signal

* Support external power bank to extend the working time

Specifications:
Dimension

L 11.6 x W 7 x T 3.3 cm (including antenna: L 19 cm)

Weight

about 215g (not include battery)

Power

1. Switching power adaptor

2. AAA / UM-4 dry battery or NiMH battery

3. Support external power bank (5V 1.5A and more)

Battery life

About 2 hours after full charge

Detecting Frequency

900 MHz – 3.0 GHz, 5.0 – 6.0 GHz

Operation mode

Auto – Lock – Manual fine tune

Scan indication

Image and frequency of scanned video (NTSC / PAL / SECAM) signal

Warning mode

1. Beep and vibration
2. Silent detection through earphone

Scanning band

1.2 GHz - 2.4 GHz - 5.8 GHz three bands cycle scanning

Detecting Distance

up to 200 feet (depending on output power of source transmitter)
* The detecting distance is subject to the signal strength of wireless cameras
Order Information:
Minimum Order: Negotiable
Buyer's Label Offered