Product
Wireless Analog camera detector / Wirelss camera scanner / Wireless Video Receiver / Anti - Analog Wireless Camera / Anti - Wireless Spy Cameras / Drone Camera Hunter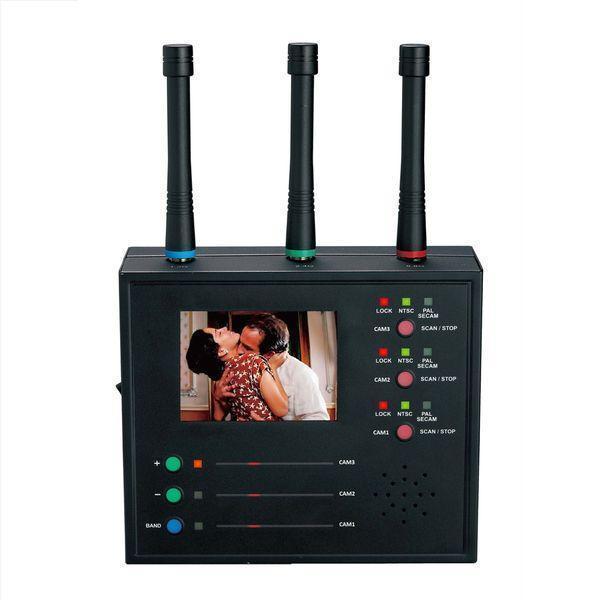 Wireless Camera Hunter / Wireless Camera Scanner
Product ID: VS-125 / 230926
~ Made In Taiwan ~
P.S. VS-125

cannot detect Digital cameras

, such as WiFi IP cameras.
#Wireless Analog camera detector #Wirelss camera scanner #Wireless Video Receiver # Anti - Analog Wireless Camera #Anti - Wireless Spy Cameras #Drone Camera Hunter
Wireless NTSC/PAL/SECAM Camera Hunter
Suresafe professional wireless camera detector VS-125 covers three frequency bands: 1.2 GHz, 2.4 GHz, 5.8 GHz. This breakthrough invention can detect and display the video and audio of multiple hidden wireless cameras on multiple frequencies at the same time.

VS-125 displays the receiving image on a 3.5" High Resolution Color LCD Monitor; and can detect the signals up to 300 ft. (depending on output power of source transmitter). This professional wireless camera scanner scans 1.2 GHz, 2.4 GHz and 5.8 GHz frequency bands synchronously.

VS-125 has indications of NTSC or PAL / SECAM to identify the video system of detected signal. The STOP/SCAN button can latch or release the image. The speaker will display the voice if there is audio signal with the wireless camera signal.

The three frequency bands have their own STOP/SCAN button and video system indicator. Furthermore, it has three AV outputs allow for recording the video and audio of all three frequency bands simultaneously.

VS-125 Wireless camera detector is one of the most advanced professional wireless analog camera detecting devices currently available. This unit has already become a popular choice for governmet organization, military, security service, law enforcement, bodyguards, company managers and private detectives, etc.
#New Nameplate of VS-125 including:
CAM 1: means 1.2G
CAM 2: means 2.4G
CAM 3: means 5.8G
˜ Notice of use

A newly purchased device might remain idle for a while, and its rechargeable batteries may become inert, which can lead to reduced battery life. It is recommended to discharge and recharge the batteries through 2 to 3 cycles to activate them. This will allow the device to continuously search for hidden cameras for approx. 50 minutes.

Specifications:
Scanning band:

CAM 1

(

1.2 GHz), CAM 2 (2.4 GHz) and CAM 3 (5.8 GHz) three bands synchronous scanning.
Monitor display:

Auto band switching.

Band selection switch for manual band change.
Detecting distance:

up to 300 feet (depending on output power of source transmitter).

Audio / Video output:

AV outputs x 3 for 3 bands synchronous recording.

3.5mm video / Audio out put jack (for 3 recording).

Battery life:

After full charge, about 50 minutes for continuously search for hidden cameras

Power:

1.

5V

Switching power adaptor
2.

1.2V AAA NiMH battery

x 8 pcs

3.

Power bank (5V

1.5A

or more)

Weight:

About 860g (including rechargeable batteries).
Features:
3.5" High Resolution LCD Monitor, color or B/W camera compatible.
Video protocol auto-switching for NTSC, PAL / SECAM.
NTSC or PAL / SECAM Video format indication x 3 for 3 frequency bands.
Scanning indication x 3 rows for 3 frequency bands synchronous scanning.
"Fine Tuning" switches for mending screen image.
Order Information:
Minimum Order: Negotiable
Buyer's Label Offered