Product
VS-555 Triple Channel 5.8G Camera Drone Receiver / Video Signal Receiver / FPV / Wireless Camera Hunter / 5.8G Drone Video Camera Scanner / Anti Drone Threats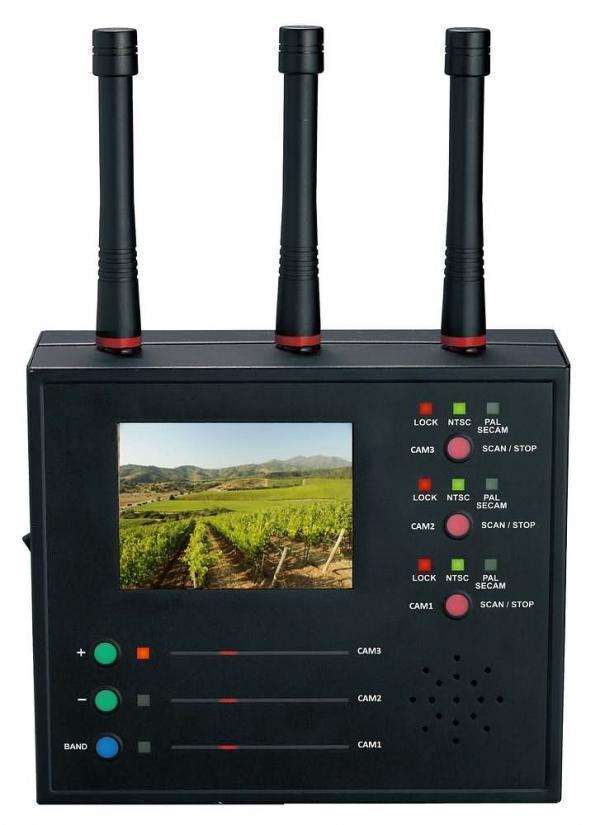 Product ID: VS-555 / 210422
P.S. VS-555 cannot detect Digital cameras, such as WiFi IP cameras.
#Triple Channel 5.8G Analog Camera Drone Receiver #Video Signal Receiver #FPV #5.8G Wireless Camera Hunter #5.8G Drone Analog Video Camera Scanner #Anti Drone Threats

Synchro Catch 3 x 5.8G Analog Video Cameras
for FPV Live streaming
5.8GHz NTSC/PAL/SECAM Video Signal Receiver x 3
This device receives and display video signal of three 5.8 GHz bands wireless cameras. Its effective distance is up to 800 feet @25mW (higher output power of source transmitter will get longer distance).
NEW INVENTED SCANNING TECHNOLOGY
This device synchro scans all drone cameras in 2 ways by 3 antennas individually.
1). Quick scan mode: 2 antennas scan over all the 64 popular drone video camera channels in about 18 seconds, one antenna (CAM 1) scans from the first channel to last channel, another antenna (CAM 2) scans from last channel to first channel.
This means this device can scan over all the 64 popular drone camera channels in about 9 seconds.
2). Full scan mode: scans over all frequency range of 5.8G drone video camera from 5330MHz to 5950MHz in about 90 seconds.
VS-555 Triple 5.8G Video Signal Receiver is easy to use, it does not require complicated installation or professional knowledge.

Features:
SCAN ALL LEGAL CHANNELS OF 5.8G VIDEO SIGNAL CAMERA
This device scans all channels during 5330MHz to 5950MHz of 5.8G frequency bands.
SCAN VIDEO IMAGE OF 3 x 5.8GHz CAMERAS INDIVIDUALLY
DEMODULATE AUDIO SIGANL
This device has audio demodulation of 6.5 MHz and 6.0 MHz covering most wireless cameras.
See more complete detail
Dimension

L 16.5 x H 14 x T 5.5 cm (antenna length not included)

Weight

about 860g (including rechargeable battery)

Power

1. Switching power adaptor

2. Built-in rechargeable battery

3. Power bank

Battery life

About1.0 hour after full charge

Detecting Frequency

5330MHz to 5950MHz

Monitor

3.5" High resolution LCD, Color or B/W camera compatible

Receiving sensitivity

> -80dBm

Video demodulation

FM

Scan indication 1

NTSC or PAL / SECAM Video format indication

Scan indication 2

Scanning LED indication x 3 for 3 cameras

Scanning channel

Three channels synchronous scanning

Monitor display

1. Auto channel switching

2. Band selection switch for manual channel change

Audio / Video output

AV outputs x 3 for 3 cameras synchronous recording / viewing, with

3.5mm Video/Audio output jack x 3 (for connect with DVR)

Detecting Distance

up to 800 feet at 25mW