Product
Wired & Wireless Camera Detector/ RF Signal Detector / Cell Phone Detector / RF Bug Sweeper / Counter Surveillance / TSCM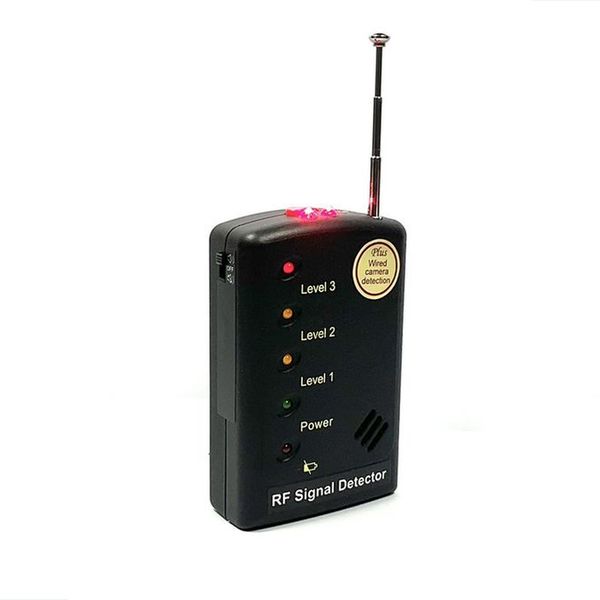 Product ID: SH-055SWRV / 231124
~Made In Taiwan~
#Wired & Wireless Camera Detector #RF Signal Detector #Cell Phone Detector #RF Bug Sweeper #Counter Surveillance #TSCM

This device can detect the popular wireless camera, wireless phone, wireless tap, bugs and smart phones from 50 MHz ~ 6.0 GHz.

The device will beep to warn you from Slow to Rapid and there are 3 LEDs: Level 1 (Weak), Level 2 (Medium), Level 3 (Strong), indication the strength of detected signal.


#Adds hard wire camera detection

The detector adds two ultra brighten LEDs to detect the lens of cameras. The technology was developed by USA military who hunted enemy by illumination scanning to find the enemy location from the strong reflection on the object with shinning surface.


Hard wire camera detection applies this theory of emitting light for user to scan the room. The lens of camera will focus the light and brightly reflect the incident light and will reveal its position to the user.
Specially designed for easy and simple use, which does not require complicated installation or any professional knowledge.

Specifications:
Size: L 87 x W 55 x T 24 mm

Weight: about 105g (w/o batteries)

Detecting range: 50 MHz ~ 6.0 GHz

Power: 3V DC (AAA/UM-4 battery x 2)

Warning mode :

Sound and 3 LEDs display

Vibration, only 3 LEDs display

Silent, 3 LEDs display and earphone output

Detecting distance:

2.4 GHz wireless camera is about 20 feet.

5.8 GHz wireless camera is about 8 feet.

2G, 4G, 5G(3300~3800MHz) cell phone is about 13 feet.

Wired camera is about 15 feet.
Features:
Set the Wired switch on, it will activate the ultra-bright LEDs for scanning suspected areas.
Catching all the Hidden camera and Concealed microphone.
Hunting all the Cellphone, Wireless phone, and wireless hidden microphone etc.
3 LEDs indication: Level 1 (Weak), Level 2 (Medium), Level 3 (Strong).
Triple strength indication: Sound, LED and Vibration
Sensitivity tuner for Distance adjustment.
Switchable Sound / Vibration detection.
With earphone to detect without other's notice.
Order Information:
Minimum Order: Negotiable
Buyer's Label Offered