Product
Wireless Camera Detector / Bug Detector / Pure Analog RF Signal Detector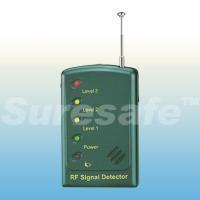 Product ID: SH-055SARV / 90927
This Wireless Camera Detector / Bug Detector exposes wireless hidden camera and bug, applied with fuzzy scanning technology and digital signal filter.

The Pure Analog RF Signal Detector will reduce most of the false alarm caused by the cellular phone and WiFi around.

Specially designed for easy and simple use, which does not require complicated installation or any professional knowledge.

Specifications:
Without interfere with cell phone, DECT phone, WiFi, Bluetooth and WLAN.

Detecting range:

50 MHz ~ 6.0 GHz

Size:

L 87 x W 55 x T 24 mm
Weight:

about 70 g (w/o batteries)

Power:

3V DC (AAA/UM-4 battery x 2)
Detecting distance:

2.4 GHz wireless camera: up to 20 feet

5.8 GHz wireless camera: up to 8 feet
Warning mode:

Sound and 3 LEDs display

Vibration and 3 LEDs display

Silent, 3 LEDs display and earphone output
Features:
Catching all the Peeping camera and Concealed microphone.
3 LEDs indication:

Level 1 (Weak), Level 2 (Medium), Level 3 (Strong).
Dual strength indication:

Sound and LED.
Sensitivity tuner for Distance adjustment.
Switchable Sound / Vibration detection.
With earphone to detect without other's notice.
Order Information:
Minimum Order: Negotiable
Branded Product, Buyer's Label Offered