Product
Wireless Camera Detector / RF Signal Detetcor / Wireless Hidden Camera Detector / Anti-Spy Camera Device/ RF Bug Detector / Counter Surveillance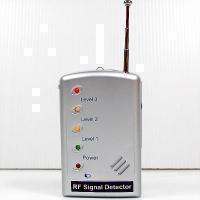 Product ID: SH-055SV / 220829
#Wireless Camera Detector #RF Signal Detetcor # Wireless Hidden Camera Detector #Anti-Spy Camera Device #RF Bug Detector #Counter Surveillance

The high sensitivity
Wireless Camera Detector / RF Signal Detector
can detect wireless peeping camera, hidden microphone (bug), cellular phones, and other radio frequency devices from 50 MHz ~ 6.0 GHz.

The high sensitivity
Wireless Camera Detector / RF Signal Detector
will beep to warn you from Slow to Rapid and there are 3 LEDs: Level 1 (Weak), Level 2 (Medium), Level 3 (Strong), indication the

strength

of detected signal.
RF Signal Detector / Wireless Camera Detector
has an "adjustable sensitivity tuner" to scan variable distance and can eliminate the environment interference (background noise).

Specifications:
Size:

L 87 x W 55 x T 24 mm

Weight:

about 70g (w/o batteries)

Detecting range:

50 MHz ~ 6.0 GHz

Power:

3V DC (AAA/UM-4 battery x 2)

Warning mode :

Silent, 3 LEDs display and earphone output

Vibration, only 3 LEDs display

Sound and 3 LEDs display
Detecting distance :

2.4 GHz wireless camera is about 8 feet

5.8 GHz wireless camera is about 2 feet

GSM Cell phone: about 8 feet
Features:
Catching all the Peeping camera and Concealed microphone.

3 LEDs indication: Level 1 (Weak), Level 2 (Medium), Level 3 (Strong).

Triple warning mode: Sound, LED and Vibration.

Sensitivity tuner for Distance adjustment.

Switchable Sound / Vibration detection.

With earphone to detect without other's notice.
Order Information:
Minimum Order: Negotiable
Branded Product, Buyer's Label Offered