Product
2G_3G_4G_5G Cell Phone Detector / Mobile interneting detector / 5G Mobile Phone Detector /3G - 4G - 5G Cellphone Detector / 5G Cell Phone Detector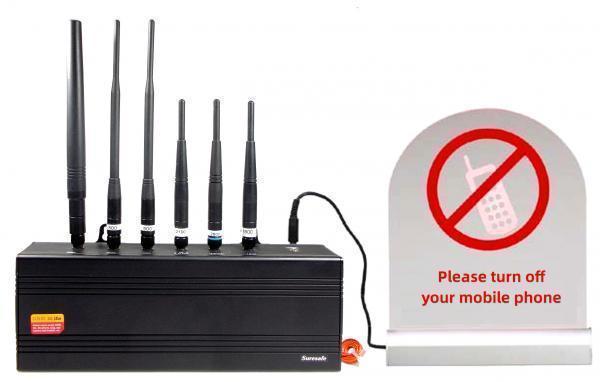 Product ID: SH-055UF5G / 210202
# 2G_3G_4G_5G Cell Phone Detector # Mobile interneting detector # 5G Mobile Phone Detector # 5G Cell Phone Detector
New cell phone detector is made for detecting cellular phone communication in a place, without interfere with 2- way radio, cordless phone or wireless camera, etc. It has breakthrough ability in detecting 3G, 4G (LTE), and new 5G signal.

SH-055UF5G offers options of warning mode: LED, voice warning message and acrylic light panel. This device also provide relay output to trigger the alarm system or other alarm devices. Specially designed for easy and simple use, which does not require complicated installation or any professional knowledge.
[FEATURES]
1. Mutiple Detection Modules
SH-055UF5G consists of multiple detection modules. Each detection module is like a miniature spectrum analyzer, detecting specified frequency range of a network.
2. Respective Identify / Display Detected Networks At The Same Time
Each detector module has a separate signal detection indication. If there are various cellphone operating in same room via different networks, for example 3G 2100, 4G 800, 4G 2600 and 5G, etc. this device can respective identify and display the frequency and network of all detected signals at the same time.
3. Locate and Find Out The Signal Source
Each detector module has a separate sensitivity tuner which allows user to gradually decrease sensitivity to shorten the detection distance, to locate and find out the signal source.
Detecting 3G / 4G / 5G Networks
The frequency bands of this device can be custom made coordinating with customer's order. We are able to supply the cell phone frequency bands of 2G / 3G / 4G / 5G (3300 ~ 3650 MHz).
* The networks will be changed according to the destination country or area.
Product presentation for reference

Specifications:
Size:

L 275 x W 105 x H 50 mm (not including antenna)

Weight:

about 1.3 kg (including rechargeable battery)

Battery life:

about 1 hour after full charge

Sensitivity tuner:

eliminate the environment interference (noise)

Power:

Built-in rechargeable battery.

9V Switching power adaptor.

Warning modes:

LED blinking shows the signal frequency band.

1A relay, with NO / NC output.

User's own pre-recorded voice warning (optional).

Acrylic light panel (optional).

5 Cellular phone frequency bands (network)

selectable

:
3G: 850, 900, 1800, 2100
4G: 700, 800, 900, 1800, 2300, 2600
5G: 3300 ~ 3650 MHz
Network combination can be made coordinating with customer's order up to 6 frequency bands
See more complete detail
Dimension

L 275 x W 103 x H50 mm (not including antenna)

Weight

about 1.3 kgs

Power

1. 9V Switching power adaptor
2, Build-in rechargeable battery

Detection Cellphone network

2G/3G/4G/5G Cell phone frequency bands coordinating with customer's order

Battery life

About 1 hour after full charge

Battery low warning

Red LED

Warning mode

1. Red LED
2. Voice warning
3. Acrylic light panel
4. Relay output, NO / NC

Sensitivity Tuner

Set up the detecting benchmark to fit the environment

Detecting Distance

1. 2G/3G/4G/5G cellphone, 3G/4G bug, 3G/4G spy camera: up to 15 meters

Order Information:
Minimum Order: Negotiable
Branded Product, Buyer's Label Offered