Product
Multi-use RF Bug Detector with Lens Finder/ Anti-Bug Detector / Hidden Microphone Detector / RF Signal Detector / GSM-3G-4G-5G Cellphone Detector / Wireless Bug Sweeper / Anti-Eavesdropping Detector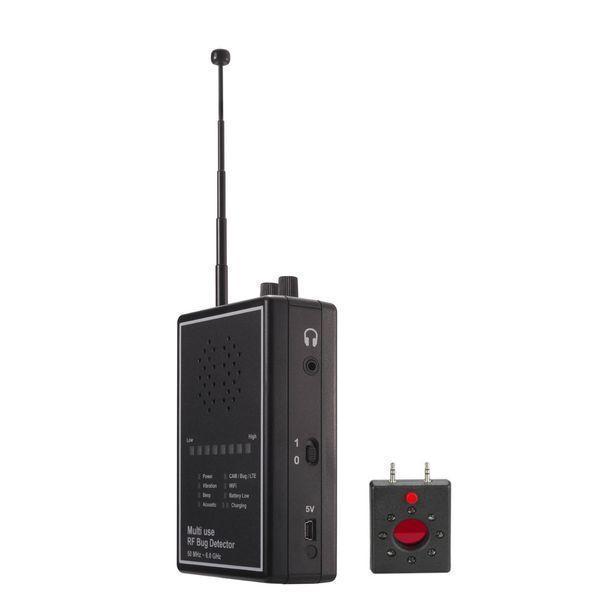 Product ID: SH-055UN7L / 221027
~
Made in Taiwan ~

#Multi-use RF Bug Detector with Lens Finder #Anti-Bug Detector #Hidden Microphone Detector #RF Signal Detector #GSM-3G-4G-5G Cellphone Detector #Wireless Bug Sweeper #Anti-Eavesdropping Detector
This device is a VERSATILE RF signal detector which can detect all the wireless (RF Radio Frequency) devices during 50 MHz ~ 6.0GHz.
Can detect all the wireless bugs during 50 MHz ~ 6.0 GHz, other audio receivers cover up to 900 MHz only.

Power-On self-test ensures all functions in normal condition.
Clear LED indications of setting signal type & battery status
Auto indications of detected signal type
Support power bank for long time use
Standby / Idle 4G-5G(3300~3650MHz) smartphone detection

Specifications:
Specification * specification may change without prior notice.
Detecting range

50 MHz ~ 6.0 GHz

Dimension

L 11.6 x W 7 x T 3.3 cm (not include antenna)

Weight

About 170g (not include battery)

Power

1. 5V DC switching power adaptor

2. AAA / UM-4

rechargeable battery or dry battery

x 4
Warning mode

1. LED indication 2. Beep alarm sound

3. Acoustic display

4. Vibration

5. Earphone silent detection

Sensitivity Tuner

1. Adjust detecting distance to find signal source

2. Eliminate the environment interference

Detecting Distance

Wireless bug (

2mW

)

up to 25 feet (beep)

up to 15 feet (acoustic)

10mW

2.4GHz Wireless camera

up to 15 feet

10mW

5.8GHz Wireless camera

up to 4 feet

GSM Cell phone

up to 13 feet

Smartphone(4G, 5G:3300~3700MHz)


up to 13 feet

3G 2100 cell network

up to 1 feet
* The detecting distance of wireless (RF radio frequency) device will be varied depending on its output signal strength.
Order Information:
Minimum Order: Negotiable
Buyer's Label Offered