Product
Man Down Alarm System / Lone Worker Safety Solution / Lone Workers Alarm System (up to 15 users)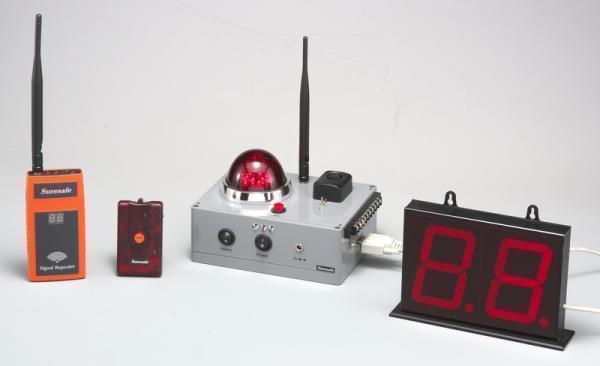 Product ID: GMD-15P / 221017
#Man Down Alarm System #Lone Worker Safety Solution #Lone Workers Alarm System (up to 15 users)
Protect person at Home, Factory, Mining site, Prison,Lab, Truck driver, Hospital and Underground job, etc.
This is a simple but effective wireless Man down alarm system (Lone Worker Safety Solution, Lone Workers Alarm System) with fellowship.
Not like others, our man down unit is not alone; it has fellowship among the man down units in same group. If either member is in emergency and press its Panic button, other members will receive the signal and know who is in problem.

Patented group relationship provides real time, immediate mutual rescue and near protection for all users in same group.

It consists of one (or more) base unit (MD-15BB) with up to 15 man down units (MD-15P), available in indoors and outdoors. The effective distance in outdoor open area between two man down units is 200 meters, man down unit to base unit is 300 meters.

For bigger protection area, one repeater (MD-15R1) can extend the distance to 600 meters among two man down units or 800 meters amount man down unit and base unit.

The Man down unit will emit call help signal automatically for prompt rescue when the user is fell down or non-moving, due to accident of faint, heart attach, epileptic paroxysm, or poison gas leakage, etc.

The Man down unit has 3 kinds of protection for selection :
1. No-motion detection
2. Tilt detection
3. Tilt & No-Motion detection


It is perfect for prison guard, social workers, postal workers, parking wardens and all others lone worker in underground, outdoor and field or at night.

Patented in UK, TW, Japan and China
* The effective distance of Man Down Alarm System will be varied depending on the environment. The mentioned distance is just for reference.
GMD-15P Catalog

Specifications:
MD-15P Man Down Unit
Power
AAA/UM-4 NiMH battery x 2
Battery duration

3 days for continuous use after full charged

Battery charging time
About 6 hours
Weight
80 g (including battery)
Size
L 9.3 x W 5.6 x T 1.7cm
Alarm sound
65dB
Receiving sensitivity
- 90dBm
Output power
< 10mW (10 dBm)
Country of origin
Taiwan
MD-15R1 Repeater

Power
1. NiMH rechargeable battery
2. 10V switching power adaptor
Battery duration

3 days for continuous use after full charged

Battery charging time
About 6 hours
Weight
210 g (including battery an antenna)
Size
L 142 x W 71 x T 24 mm (not including antenna)
Receiving sensitivity
- 95dBm
Country of origin
Taiwan
MD-15BB Base Unit
Power
12V 1.5A rechargeable battery
12V Switching power adaptor
Battery duration
24 hours for continuous use after full charged
Battery charging time
About 6 hours
Weight
2.20 kgs (including battery and 7 segment LED display)
Size
Base unit: L 21.5 x W 15 x H 13.5cm
7 segment LED display: 12cm high
Alarm sound
H-L switch, High 100 dB, Low 80 dB
Receiving sensitivity
- 95dBm
Alarm output
Relay, NO - NC
Country of origin
Taiwan
Features:
This man down unit has 3 kinds of potection for selection

1. Tilt detection
2. No Motion
3. Tilt + NO Motion detection

Panic Alarm - Immediate call for help if user is in emergency
Pre Alarm - Gives warning before starting siren
MD-15BB: with H-L switch, High 100 dB, Low 80 dBn
Simple operation
Order Information:
Minimum Order: Negotiable
Branded Product, Buyer's Label Offered